We're Hiring! Join my team as an Operations and Outreach Co-ordinator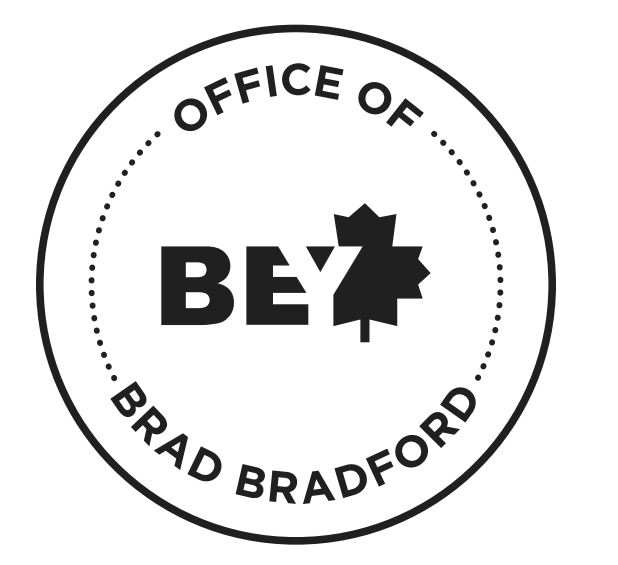 Job Posting: Operations and Outreach Co-ordinator
Office of Councillor Brad Bradford
Ward 19 | Beaches-East York
This is an exciting opportunity to contribute your skills in office organization, administration, and scheduling to one of Toronto's most diverse and engaged constituencies in Beaches-East York.
This is a fast-paced role that will provide strong day-to-day administrative support for the Councillor's office, ensuring quality customer service and community outreach through scheduling and execution of projects.
What can you expect to do?
Managing the day-to-day operations of the Councillor's schedule and triaging incoming phone calls, email, physical mail.
Ensuring a high level of attention to detail on calendar and scheduling, proactively managing use of time while responding to revolving deadlines and shifting priorities.
Liaising with team members, City staff, external stakeholders to respond to requests, arrange meetings and calls, and follow up on meeting objectives.
Act as key point of contact for reviewing call and meeting requests, sending out calendar invites and organizing logistics.
Logging office correspondence and contacts in the office database, actively keeping data up to date.
Preparing for meetings and events, including booking space, transportation, and accommodation, tracking attendance, sending reminders, drafting agendas and briefing materials for review.
Providing residents with key information on programs and services, including through information blasts, direct correspondence, and project updates.
Planning and executing community events, in person and virtually, staffing the Councillor as required.
Demonstrate active communication skills to provide regular updates to the team and Councillor, including following current news events, tracking priority issues, and assisting on resolving casework.
Developing relationships and coordinating with City of Toronto staff, residents, community groups and associations, and other stakeholder groups to deliver quality customer service for residents in the Beaches-East York community.
Responding to resident inquiries about Councillor Bradford's position or stance on key local issues, handling sensitive constituent correspondence and materials with confidentiality and discretion.
Preparing, tracking, and submitting office expense claims and order office materials.
Serving as Councillor Bradford's representative to community associations, resident associations, local boards, and other community groups as assigned to help those groups achieve their objectives wherever possible and navigate City processes.
Coordinating with other members of Councillor Bradford's team to ensure that key information affecting the community is communicated internally and externally.
Leading other special community-based projects and initiatives or taking on other duties as needed to support the team's work.
What would make you successful in this role?
Broadly, we're looking for:
2+ years' experience in an administrative operations or scheduling role, ideally in a political environment or with public-facing responsibilities.
A natural multi-tasker who is organized and able to prioritize with the quickly evolving demands of a political office.
Familiarity with the City of Toronto's divisions or processes.
A self-starter, proactively seeking opportunities to improve organizations and processes, build community and support local priorities.
A strong customer service provider and relationship builder.
An interest in the issues that matter to the residents of Ward 19 and a desire to support community groups achieving their objectives at City Hall.
Political acumen to understand and balance multiple competing interests.
What are the challenges?
The work can be demanding – Ward 19 is one of the most well-informed and well-engaged communities in Toronto.
The role requires finding a good balance between proactively managing an organized schedule while reactively responding to the changing landscape of the day.
We work at a fast pace and have high expectations for attention to the small things as well as the big – in a public facing role, each interaction matters.
Attendance at evening, weekend and holiday events is sometimes expected.
What's in it for you?
An opportunity to shape the local community and the city, working with some of Toronto's most engage residents to create neighbourhood change.
Learning the ins and outs of municipal government and City Hall politics.
Exposure to a wide range of issues affecting the City of Toronto, Canada's largest city and seventh largest government.
A supportive culture that encourages training and learning opportunities, with a growth-oriented feedback.
A salary and benefits package in line with public sector standards.
Flexible work schedule, including ability for work from home.
Three weeks' vacation after probation period ends.
How to apply:
Using the subject line "Application – Operations and Outreach Co-ordinator", please email your resume and cover letter to:
Ashley Millman, Chief of Staff