April 1, 2022 – Newsletter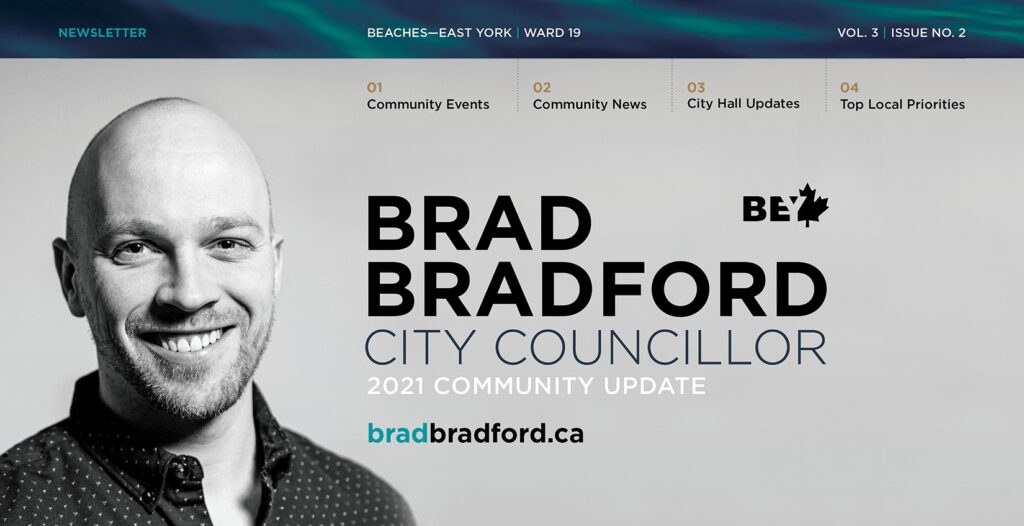 It's officially spring! With the change of seasons came the re-introduction of many in-person, outdoor events that we have missed over the last couple of years. And now, with the warmer days ahead, there is no shortage of exciting programs and events safely happening throughout our community and across the city. It is a really electrifying time for our city.
After announcing its return just weeks ago, the Toronto St. Patrick's Day parade kicked us off on March 20th to begin parade season and we've been able to celebrate many other cultural events since. It was a beautiful day outdoors to celebrate all things Irish with so many of you. Want to watch a quick recap of the day? I posted it to my Instagram which you can watch here.
We also spent a very special Saturday morning on the podium roof at City Hall, raising the flag of Bangladesh in honour and celebration of the 51st Bangladesh Independence Day. It's an honour to have been our with many community members for this moment, and to be reminded of the importance of standing for sovereignty and freedom. I'd encourage you to check out the photos from the day here, and to learn more about the rich history of #BEY's Bangladeshi community, who have long played a vital role in community building across the East End.
The bright spirits continued over at East York Jam fest, where music festival season officially commenced. What a way to welcome back outdoor live music, right here in the East End! Seeing so many faces was heartwarming, despite the not-so-warm weather. If you didn't get the chance, you can catch a recap of the weekend performances at the Jam Fest went on my Instagram here.
With that, we can all agree that Toronto's arts and culture are vital to the fabric of the city. It's why I joined Mayor Tory to officially welcome back Live Music at the much-loved Toronto venue The Baby G to start off the week. Celebrating each other is a backbone of our city, and supporting the communities and people who bring vibrancy to our city has never been more appreciated. With good news measures rolling out the City Hall side, like Committee's approval of Toronto's new Music Strategy, we are making headed towards more important work at next week's City Council meeting on ways to rebuild a strong Toronto.
With the weather getting warmer (fingers crossed this is the last of the flurries!), the annual spring cleaning begins. As we head out with the old and in with the new, it's a time for sprucing our homes and streets up!
This weekend, the City will be completing the first pothole blitz of the season. If you're out on a walk and see an area in need of repair, please let 311 know so we can get it fixed! And if you're tidying up your home, a friendly reminder that I'll be hosting my first Community Environment Day of the year this Tuesday April 5th, at Woodbine Beach parking lot. Stop by between 4pm and 8pm to drop-off and recycle electronics, donate household items, junk and garage items, and even pick up some compost for your garden! More info on the event below.
Today's snow and rain aside, it's a bright and hopeful time for our city and our #BEY community. The sun is coming out, the festivals and community events are springing back, and we've been able to safely see friends and loved ones again. As we continue to look out for each other, I highly encourage you to stop in any of our local small businesses and support them, and buy a ticket to see a local artist perform at one of our many venues and bars across the community/city.
We have lots to look forward to together, and I can't wait to share in those moments with you.
See you out in the community,
– Brad
---
In This Issue
Updates & Announcements from City Hall
TMAC approves Music Strategy
D.I.Y. Music Venue Proposed ?
City of Toronto Archives open TTC 100-years of Moving Toronto exhibit ?
TTC Wheel Trans Reintroduces Shared Rides
City of Toronto launches hiring campaign for spring and summer parks and recreation jobs
Toronto launches Small Business Support Campaign
Road safety improvements around Secord Elementary School
Upcoming vaccine clinics ?
CafeTO Registration Reminder ?
Environment Days are Back! – April 5 & 24 ?
Jazz and Reflection with Alison Young & Jeff McLeod – April 2
Breakfast with the Easter Bunny – April 9
Live Jazz Lecture Series – Until April 24
Lumintato Festival Reveal – April 12
Beaches Easter Weekend Event – April 15 & 17
LDD Moth Webinar – April 20
Clean Toronto Together Returns – April 22 – 24
Kids Help Phone: Walk so kids can Talk – May 1
Toronto Beach Chorale: Mozart in May – May 1
Beach Dogs 4 Ukraine – May 1
Community Centre 55 ?
Seniors Assistance Home Maintenance Program
Neighborhood Watch Safety Program
Spring recreation program registration
Free training in the hospitality sector
Toronto's Tree Planting Program
Pothole reporting is open
Applegrove Income Tax Clinic
Sustainable Takeout Containers Survey
Bikeshare e-station installed at 85 Lee Ave ?
Beaches Sandbox – New community centre opening soon
Community Coyote Safety Information
Protect the Foxes
Toronto Hydro Overhead Civil & Electrical Work; Project 12-20 Dawes Road
Toronto Hydro – Overhead Civil & Electrical Upgrade; Project Danforth
Toronto Hydro – Danforth Ave. Cable Chamber Repair
Munroe Park Avenue Stairs Closed for Construction
Williamson Ravine Upgrades
Toronto Hydro – Woodbine Heights Upgrade
Toronto Hydro – Danforth 4kv Conversion Work
Thanks for taking the time to read my bi-weekly newsletter! If you have any events, news, or ideas to share for our next one – please reach out to my office. Send me an email at councillor_bradford@toronto.ca, and we can get you included in our next issue.
---
Updates & Announcements from City Hall
Toronto Music Strategy Approved by the Economic and Community Development ?
The Toronto Music Advisory Committee has been leading the way on the development of Toronto's new Music Strategy – the first comprehensive refresh our city has seen since 2016. This week was a big step forward for music in Toronto – with the Committee on Economic and Community Development approving the new strategy. We're moving ahead on the framework that will drive investment and recovery of the music sector for years to come. On to Council for final approval next week!

Read the full draft here.
D.I.Y. music venue and performance venue approved by committee
On Tuesday March 22, the Toronto Music Advisory Committee approved the proposal for the plan to turn a city-owned building on Queen West into a new, multi-purpose rehearsal and venue space, operated by community arts organization and not-for-profit called It's OK*. The proposal will now make its way to Council for the final approval, happening on April 6-7th.
The proposal would convert an existing two-story, city-owned building in Toronto into a one-of-a-kind DIY and rehearsal space for new and emerging artists – with a particular emphasis on opportunities for on Black, Indigenous, and racialized artists who have been disproportionately impacted by the pandemic. The site is a former retail store , which was acquired by the City of Toronto along with the parking lot to the north, as part of a larger project to build new affordable housing, cultural space, and parkland in the area.

City of Toronto Archives open TTC – 100 years of Moving Toronto exhibit ?
The Toronto Archives opened the TTC 100 Years of Moving Toronto exhibit
The exhibit explores the history of the TTC including the consolidation of the transit system, growth in the 1920s, fare media, the development of subway lines, female TTC workers during the Second World War, as well as diversity and accessibility at the TTC. The exhibit also features Irma James, the first Black female Streetcar driver, and Lyn Morgan, the first female Lead Hand. Innovations from the 21st century such as low-floor streetcars, electric buses and green roofs at TTC facilities will be showcased as well.
The exhibit is free to attend and will be open on weekdays from 9 a.m. to 4 p.m. More information is available on the City's website.
TTC Wheel Trans reintroduces shared customer rides
In response to the improving COVID-19 climate, the Ontario Government, in consultation with the Chief Medical Officer of Health, has moved to the next phase of its plan to reopen the province, easing several restrictions related to capacity limits. In keeping with this direction and with the support of ACAT, Wheel-Trans is planning to reintroduce shared customer rides in a safe and phased approach starting March 20, 2022. Wheel-Trans will reintroduce shared rides starting with the largest vehicles first. Learn more about the changes here.
City of Toronto launches hiring campaign for spring and summer parks and recreation jobs
With the city's recreation programs open for registration, Toronto has launched their hiring campaign for spring and summer parks and recreation jobs. Each year the city hires roughly 5,000 summer parks and recreation employees to help run programming, which includes public pool lifeguards and children's day camp counsellors, in addition to 900 seasonal gardeners and park's staff. Click here to view the wide variety of job postings and submit you application today!
Toronto launches Small Business Support Campaign
The City of Toronto is providing a variety of programs and services to help small businesses in Toronto recover from the impacts of the COVID-19 pandemic. The goal of this campaign is to help small business and restaurant owners become aware of the many supports available to them. These supports include financial relief programs, grants, webinars, one-on-one consultations, help with digital transformations and more. All information about the available supports for small businesses can be found on one page at Toronto.ca/BusinessSupport.
Business Webinars – The City of Toronto and its partners offer year-round learning opportunities for entrepreneurs and small business owners, from regularly scheduled seminars to large networking events. Learn more here.

Road Safety Improvements around Secord Elementary School
At our last meeting of Toronto and East York Community Council, I brought forward a letter with a number of motions to improve road safety and traffic flow around the Secord Elementary School area.
A bustling neighbourhood home to young families, a TTC station, school, and community centre – I worked with the local community to bring forward a suite of improvements to address speeding and safety concerns for those getting around the area.
I'm pleased to say Community Council voted in unanimous support of the letter and recommendations. Check out a preview of the letter below, and read the full list of the many motions by clicking here!
Upcoming vaccine clinics
Local appointments can be booked in advance at www.tehn.ca/covid19/covid-19-vaccinecineAppointment. You can also use the provincial booking system online or at 1-833-943-3900.
Michael Garron Hospital and Toronto East Health Network have been hosting pop-up vaccine clinics in the east end and will continue to do so – check here for an updated list of where you can get vaccinated.
CafeTO Registration Reminder ?
Born from the pandemic, CafeTO is an initiative that has helped our small businesses thrive through some of the most difficult times of the pandemic, and provided safe gathering places for friends and families alike. While restrictions have been lifted and things are returning to normal, this program will be welcomed back to the city with open arms. If you would like to register for a sidewalk café permit, click here, or to apply for a curb lane permit- which closes registrations on 11:59pm April 2nd, click here.
---
Local Events
Environment Days are back!
This year, we will be hosting our first Community Environment Day on Tuesday April 5 from 4 to 8pm and Sunday April 24th from 10am to 2pm at Woodbine Beach parking lot (Lakeshore and Coxwell). Community Environment Days are a great way for residents to get involved and help reduce the amount of reusable and recyclable waste going to landfill and allow for safe disposal of household hazardous waste.
The program, running from April – July this year, provides a convenient way for residents to drop off reusable and recyclable items such as clothing, small appliances, and electronics. Residents can also drop off household hazardous waste, such as paint and batteries for safe disposal. Free bagged compost can be picked up at any Community Environment Day event. For more information visit: toronto.ca/environment_days
Jazz and Reflection with Alison Young & Jeff McLeod
The Beach United Church is hosting a jazz and reflection night with JUNO nominated saxophonist and composer Alison Young and Pianist, organist, composer and arranger Jeff McLeod. With the theme being community, as you listen and reflect, take some time to think about what community means to you, and how important it is to have a solid community support system. The last few years proved how strong of a community we are, but it wasn't easy, there is definitely a lot to reflect on. This is a pay as you can event, with a suggested amount of $25. Please click here for more information and/or to purchase your tickets.
Community Centre 55's Breakfast with the Easter Bunny
The Easter Bunny is coming to Community Centre 55! Join them for a pancake breakfast on April 9th at 8 or 9am, and an egg hunt happening right after. Pay as you can, with a suggested donation of $3! More information is below:
Live Jazz Lecture Series
Beach United is excited to offer the first "in person" lecture with Dr. Mike Daley since the pandemic. Many of you will remember the Leonard Cohen lecture series in January 2020 followed by the magical music concert with Jill and Mike performing some of Leonard Cohen's beloved songs. Then the world changed and we all learned how to connect virtually.
There is nothing like the feeling of being together in a learning community and, for Mike, seeing the masked faces of people interested in the origins and evolution of Jazz Music. This is a favourite subject of his which he has taught for over 20 years.
This lecture series will be followed with a jazz concert with Jill and Mike on Sunday afternoon, April 24, featuring the music highlights from this jazz period. Covid protocols are in place for everyone's safety. To register, click here.
We are also offering the lecture series online. We will record the live lecture and it will be available on Wednesday following the lecture. Click here to purchase the series online.
Luminato Festival Reveal
Join us on Tuesday, April 12th at 11am for a Festival Reveal hosted in Union Station's West Moat. Enjoy light refreshments as we officially announce our 2022 Festival lineup and celebrate the return to live arts across the city with Queer Songbook Orchestra, acclaimed literary critique Donna Bailey Nurse, and host Anand Rajaram.
From June 9 – 19th, Luminato will reignite the city with big, bold contemporary works of art live across the GTA. Join us in shining a spotlight on the Toronto region with inspiring, large-scale events alongside intimate experiences that unite audiences, artists, and communities.
Date: Tuesday, April 12th
Time: 11:00AM EST
Location: Union Station – West Moat, Lower Level
Enter via York St. entrance, south of Front St.
Beaches Easter Weekend
The Toronto Beaches Lions Club presents the Beaches Easter Weekend! The parade was first started in 1967 to mark Canada's Centennial year and has been celebrating Easter Weekend in the Beaches ever since.
The Digital Egg Hunt will take place virtually on April 15 from10am – 5pm. Registration for this event is required.
The Annual Easter Parade will be on Sunday, April 17, 2pm rain or shine on Queen Street East, from Neville Park to Woodbine.
Visit BeachesEasterParade.ca to register and learn more about the festivities.
LDD Moth Webinar
The Toronto Region Conservation Authority is hosting a free informational webinar on the LDD moth (or spongy moth, previously known as European gypsy moth) presented in partnership with Credit Valley Conservation, Lake Simcoe Region Conservation Authority, Conservation Halton, and Hamilton Conservation Authority on Wednesday, April 20th at 6:30pm. The webinar will provide an overview of the LDD moth life cycle, how to identify them, infestation forecasts for 2022, and management options that property owners can consider. Click here to register
Clean Toronto Together returns April 22 – 24
Hey Toronto, it's time for a little spring cleaning! Gather with friends, neighbours and colleagues to help clean up our parks, beaches and other public spaces after a long, cold winter. Let's Clean Toronto Together! Learn more and register your cleanup at livegreentoronto.ca.
Kids Help Phone: Walk so kids can Talk
Kids Help Phone is hosting a walk to fundraise money for their services. The Walk is a 5km, family-friendly event. It's a great way to build community and enjoy a fun experience outdoors while supporting an important cause. To learn more about the event and register, please click here.
Toronto Beach Chorale: Mozart in May
Toronto Beach Chorale is celebrating the return to live music with their Mozart in May show. Happening at Kingston Road United Church, '"enrich your senses with the inspirational music that is the genius of Mozart" Get your tickets by clicking here.
Beach Dogs 4 Ukraine
As a community initiative, BeachDogs4Ukraine is an important, and adorable #BEY driven project to raise funds for the Red Cross and their work in Ukraine. The plan is to meet at Kew Gardens Bandshell at 9am on May 1st with your pup, and to walk to the Silverbirch off leash area as a group. If you would like to register for the event, or donate, visit their donation page here. You can also follow them on Instagram to keep up with the event at @beachdogs4ukraine.
---
Community Programs
Community Centre 55 Spring Schedule
With the arrival of spring, Community Centre 55 has updated their program schedule for seniors! Check out the fun things planned for each day of the week. Contact information is on the schedule sheet if you have any questions or would like more information on specific programs.
Seniors Assistance Home Maintenance Program
Spring is almost here and that means it is time for Spring Cleaning! We have workers available to assist seniors, and those living with disabilities, in your constituency with things like yard cleanup, grass cutting, garden prep, leaf raking, and other general outdoor cleanup tasks.
Neighbourhood Watch Program
Spring Recreation Program Registration
it's not too late to register! Programs begin April 4.
Get moving this spring with one of the City's various recreation programs! Registration for City of Toronto spring recreation programs is open. Residents can have fun, learn a new skill and stay active with thousands of programs across sports, fitness, swimming, arts and general interest. Some new programs for spring include outdoor Pilates, outdoor Tai Chi, and outdoor yoga.
Residents are asked to plan ahead and confirm the district for their programs before registration starts. Visit toronto.ca/SpringRec for more information.
Free training in hospitality sector
COVID-19 closures that kept us safe throughout the pandemic have disproportionately affected those working in the hospitality sector. One of the many issues businesses in hospitality are facing as we begin to reopen is a shortage of workers.
In addition, the pandemic has made gaining experience in the sector equally as difficult given the reduced staffing needs during lockdowns. The Hospitality Workers Training Centre is combatting this by offering free hospitality sector training programs. Check out their available training programs here!
Toronto's 2022 Tree Planting Program
If you live on Woodmount or Murdock Avenues, check your mailbox in the coming weeks for information regarding tree planting on your street happening this Spring!
Want to help the City grow our urban canopy? Property owners can submit a tree planting request for the City-owned road allowance in front of their home or business.
Click here for more information about the program.
Want to know what trees are available? Check out the Toronto Street Tree Guide to learn more.
City Pothole Reporting is Open!
As we continue to complete our work on snow removal, you might be seeing potholes and other types of damage to our roads. We kindly as you passing through the neighbourhood to report these potholes for the attention of 311. You can submit a service request:
by filling out an online form
by calling 311 and providing them with the exact location of the pothole
by tweeting 311, with exact location of the pothole by emailing 311@toronto.ca
by emailing 311@toronto.ca
Should you be in need of further assistance, reach out to my office.
Applegrove Income Tax Clinic
---
Neighbourhood News
Bikeshare e-station installed at 85 Lee Ave.
As the warmer weather approaches, the ways we get around the city will change. Many of us will opt to walking, bussing, or biking. Our City of Toronto Bikeshare program is a great resource to use when looking to bike at a low cost. Now, the initiative is becoming even more accessible for #BEY residents with the City's installation of an new e-station right at 85 Lee Ave.
I highly encourage you to soak up the sun by travelling to your destinations, or even just exploring the city, on a bikeshare bike!
Community Coyote Safety
The City has has developed a Coyote Response Strategy to ensure both animals and people remain safe in our neighbourhoods. The strategy helps provide public education to our communities, including the City's E-Learning Module which has a lot of tips on co-existing with coyotes. For more information, read through the educational pamphlet below.
Protect the Foxes at Woodbine
Woodbine has become home to some furry friends! In 2021, the City discovered a fox den under the Woodbine boardwalk. March is typically when Fox kits are born, and although it can be hard to predict where they will have their young, it is possible they will once again have their kits at Woodbine beach. For the safety of the foxes, the City along with Parks, Forestry and Recreation and Toronto Animal Services have filled gaps underneath the boardwalk in order to deter the foxes from denning there once again, and they will continue to monitor the situation closely. Toronto Animal Services, at the advice of Toronto Wildlife Centre, is taking a proactive approach this year to mitigate potential issues. They are encouraging residents to help protect our wildlife and keep our community safe by following a few simple instructions:
Never touch wildlife or pick up young wildlife
Always keep your dogs on leash, unless in a designated dogs off-leash area
Never feed wildlife as providing food has detrimental impacts to both the animals and the community
Call 311 if you see someone feeding wildlife or an injured or abandoned animal.
We can all do our part to coexist with nature and ensure that our public spaces remain safe for everyone in our communities, including our furry wildlife neighbors, too!
Beaches Sandbox – New Community Centre Opening Soon
This week, the Beaches Sandbox Community Centre, announced the Spring opening of their new community hub offering fun, activities, workshops and events to the Beaches community. Motivated by the desire to give back, the fully accessible centre offers a welcoming and inclusive space for people of all ages and abilities to enjoy. The Queen and Lee building has been fully renovated from top to bottom and includes vibrant, modern studio spaces and a state-of-the-art culinary school within it's13,000 square feet. The space will also be the home of it's valued partners and permanent residents: For The Love of It Performing Arts Centre and Kew Gardens Health Group.
Beaches Sandbox will host up to 40 weekly classes with programs in music, cooking, photography, yoga, dance and more! Equipment will be provided for most sessions, so families need not worry about investing in costly instruments or art materials.The schedule is being added to all the time in anticipation for the opening and some of the high quality programs already in the calendar are:
Art for special needs – a program designed uniquely for children with special needs by the Canadian Contemporary School of Art;
Rooks to Cooks designed Baking and Cooking Programs for kids aged 5-11
Seniors' watercolour classes
Guitar and ukulele lessons for kids designed by Kitchen Music Studios of Toronto;
Video Game Programming for kids designed by The Cube School
'Glow Girls' girls empowerment program designed by leading Toronto yoga studio,
Afterglow.
Head over to our website and register for one of the fabulous programs, find out about partnership opportunities and keep an eye out for the Summer 2022 camp announcement. Financial means or disability should never be a barrier to participation and our fully accessible centre with a wide range of quality, subsidized programs will enable us to fulfill our vision of a brighter future for all children.
---
Work in the Ward
Toronto Hydro Overhead Civil & Electrical Work; Project 12-20 Dawes Road
Toronto Hydro – Overhead Civil & Electrical Upgrade; Project Danforth
*Work is expected to begin January 2022.
Toronto Hydro – Danforth Ave. Cable Chamber Rebuild
Munroe Park Avenue Stairs leading to Silver Birch Beach Closed for Construction
Please be advised that the Munro Park Ave stairs leading to Silver Birch Beach will be under construction. The existing wood and brick staircase is being removed, and concrete steps with a metal handrail are being installed. Weather permitting, this is expected to wrap by late fall.
The cancellation of another project allowed Parks Construction to quickly prioritize this important work, hence the last-minute nature of this advisory.
Access to the Beach can be gained from Neville Park Blvd and Nursewood Rd to the east, and Silverbirch Ave and Willow Ave to the west.
Williamson Ravine Upgrades
Urban Forestry is proposing to plant native trees and shrubs this fall in Williamson Ravine. These plantings are intended to increase the urban tree canopy, improve biodiversity, restore the native plant community, and to prevent soil erosion, following invasive vegetation management. This work is being done as part of the City's Ravine Strategy.
Toronto Hydro – Woodbine Heights Upgrade
Toronto Hydro – Danforth 4kv Conversion Work
---
Thanks for taking the time to read my bi-weekly newsletter! If you have any events, news, or ideas to share for our next one – please reach out to my office! Send me an email at councillor_bradford@toronto.ca and we can get you included in our next issue.
Have questions, comments or concerns? Just hit reply to this email and get in touch with me.
For real-time updates on the local issues that matter to you most, please follow any of my social media accounts!