Beaches-East York Snow Clearing Update
It's been a historic couple of weeks for weather in Toronto. Thank you to everyone who has reached out to my office to flag an area for service, and for your patience in tackling this massive amount of snow.
The blizzard conditions on January 17 brought dumped 55 cm of snow in the city in one day. That's more snow than we saw from January to March 2021 combined, with subsequent snowfalls since.
I know it has been a challenging couple of weeks – and I understand your frustration with getting areas fully cleared. I've flagged each area you've raised with me to the attention of the City's Winter Operations team and I'll be continuing to have the safety and service levels around our neighbourhoods addressed.
Below you'll find the latest updates on the Beaches-East York clearance plan.
Where have the plows been recently? Snow removal operations have been completed on:
Queen St E, from Victoria Park Ave to Coxwell Ave
Danforth Ave, from Main St to Coxwell Ave
Dundas St E (repeat clearing), from Kingston Rd to Coxwell Ave, and Maughan Cres

Gerrard St E, from Woodlee Rd to Coxwell

Ave
O'Connor Ave, from Woodbine Ave to Glenwood Cres

Westlake Ave, from Lumsden Ave and Cosburn Ave

Cosburn Ave, from Woodbine Ave to Coxwell Ave

Mortimer Ave, from Woodbine Ave to Coxwell Ave

Kingston Rd, between Queen St E to Waverley R

d
Gerrard St E, from Main St to Coxwell Ave
Danforth Bike Lane: Danforth Ave, Eastbound from Coxwell Ave to Victoria Park Ave
Where are the plows heading next? For the next 2 days, snow removal operations at targeted for:
Cosburn Ave, from Coxwell to Woodbine
Mortimer Ave, from Coxwell to Woodbine
Queen St E, from Coxwell to Victoria Park
Lee Ave, from Queen to Alfresco
Danforth bike lanes eastbound, from Oak Park to Coxwell
Violet Ave
Leuty Ave
Wineva Ave
Hammersmith Ave
Scarboro Beach Blvd
Alfresco Lawn
Hubbard Blvd
Glen Manor Dr W
Glen Manor Dr E
Isleworth Ave
Avion Ave
Bonfield Ave
Selwood Ave
Maclean Ave
Balsam Ave
Fernwood Park Ave
Fir Ave
Park Ave
Beech Ave
Willow Ave
Spruce Hill Rd
Cedar Ave
Silver Birch Ave
Scarborough Road
Kingswood Rd
Bingham Ave
Pine Cres
Pine Glen Rd
Southwood Dr
Glen Stewart Ave
Cavendish St
Winthorpe Rd
Beaufort Rd
Kimberley Ave
Osborne Ave
Wayland Ave
Malvern Ave
Hannaford St
Pickering St
Lawlor Ave
Dengate Rd
Musgrave St
Flagman St
Brockville St
Drummondville Lane
Crossovers St
Ted Reeve Dr
Lyall Ave
Main St
Woodale Ave
Swanwick Ave
What kind of snow clearing work is happening?
Given the massive volume of snow we received, the clearance plan includes removing snow off our streets, in addition to plowing and salting operations.
Crews are using front end-loaders with blowers and dump trucks to collect snow and move it to one of the City's five snow storage facilities.
This critical work will remove windrows left by plowing operations that can limit access for emergency vehicles, restrict traffic flow, interfere with both pedestrians and parking, and obstruct sightlines.
Contractors and staff are being deployed around the city to assist in addressing sidewalk issues in hot spot areas and intensify snow removal operations on sidewalks as much as possible.
Check out the work underway! Thanks to Beaches-East York resident Hortenzia Papp who took this great shot of snow removal on the Danforth, just east of Coxwell: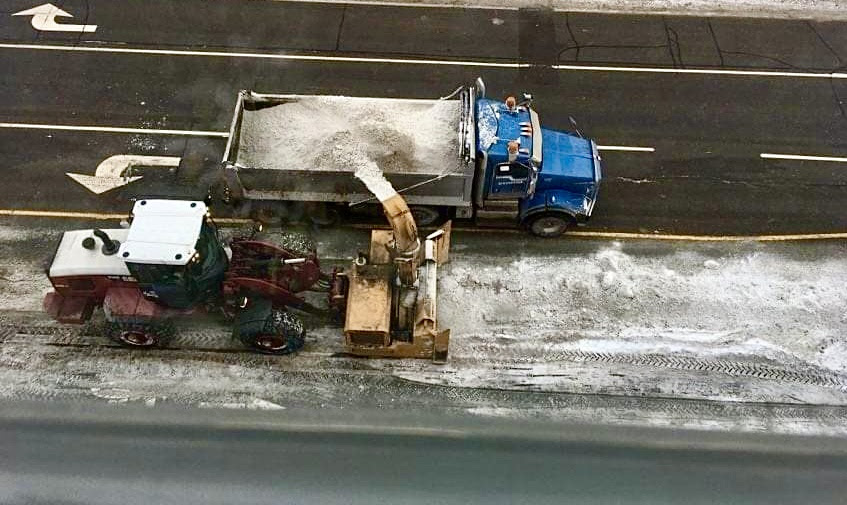 As quickly and as hard as contractors and staff are working, this is officially the largest snow removal operation in our city's history. As crews continue removal efforts 24/hours a day, they have so far:
Removed approximately 68,806 tonnes of snow from roads, sidewalks and bike lanes
Dumped 20,269 loads of snow from across the city at winter snow storage facilities
Completed over 89 rounds of plowing and salting prior to snow removal
Removal snow from approximately 877 km of road
Removed the snow from 406 school loading zones
Redeployed more than 40 Transportation Services staff to perform site checks
While work of this magnitude will take time to complete, I know public safety is top of mind. Clearing for emergency vehicles, as well as for transit routes, school zones and crossings are being prioritized for safety and access. With dedicated school zone contractors now launched, crews are also working through sections of the Danforth bike lanes to have the entirety cleared as soon as possible.
While this is not a snowfall event we'll see often, I will be working to ensure a review of this storm response is undertaken to better service levels in future winter events, hold external contractors to account, and have improved local updates provided to our community.
Thank you for your patience as the work continues. I'm grateful to all who have been out lending a hand, checking in on a neighbour, and to our first responders, transit operators and others who have been working non-stop since the storm to keep Toronto moving.
Stay warm and stay safe,
Brad