Plans for Summer Season in the Beach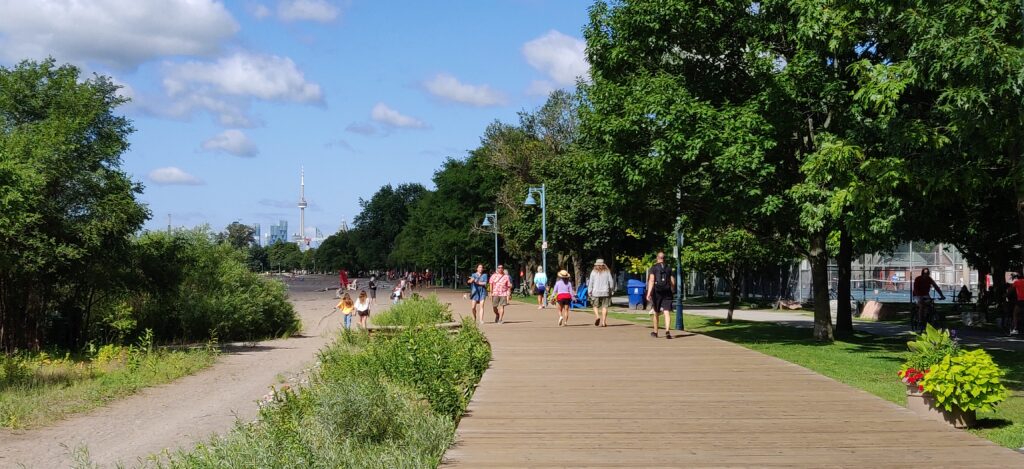 With the warmer weather on the horizon I've been working hard to set up a proactive plan for the summer season at one of our neighbourhood's most treasured Toronto gems: the waterfront. We're addressing the concerning behaviour we saw in previous years and setting our much-loved beaches and Beach community up for a successful summer. Over the past month, I've heard from neighbours like you, and convened a multi-divisional table across the City's Parks, Forestry & Recreation (PF&R), Solid Waste Management (SWM), Municipal Licensing & Standards (MLS) and Toronto Police Services (TPS) divisions to prepare an updated strategy for the Beach to prepare us for the sunny season ahead.
WHAT TO EXPECT
Around the entrances to arriving or parking at Woodbine Beach, as well as on beach access points, you'll see enhanced signage for off-leash dogs, swim safety reminders, large curbex signs in parking lots to remind visitors of our bylaws regarding litter, fireworks, bonfires, etc.
There will be an enhanced bylaw patrol from last year, in collaboration and discussions with PF&R, Animal Services and TPS, including the Police Marine Unit, to ensure problematic issues are addressed.
To keep the beach clean, there will be an increased number of litter bins, more frequent replacements of bins and early collections from last year, as well as additional staff to address litter on the beach.
Staff will also be deploying additional resources for waste collections this year, particularly during peak times and on busy days where an increase in litter and garbage issues may require quick attention to be cleared. 
We also implemented new lighting enhancements on the Woodbine Bathing Station! This will provide enhanced illumination of the exterior of the building and the beach area at night, and can be used to support enforcement activities/response in the nighttime hours.
This year's Beach Lifeguard Program will be underway across the beach. The season will operate from June 4th to September 5th, 2022 with hours of lifeguarding from 10:30 am to 7:30 pm/dusk daily.    
2022 PLAN – ADDITIONAL DEDICATED RESOURCES
Over the past few months, I've convened a joint table of City Divisions who have been collaborating to build out a comprehensive 2022 plan for the summer season.
This work sets us up with both a game plan and the resources allocated to respond to issues at one of the most popular and well-loved destinations in the City, including tackling litter, crowds, additional signage and enhancing by-law enforcement.
Parks and Solid Waste Collection units have hired additional staff this year to actively monitor litter and collection. There will also be active by-law enforcement and dedicated officers in the Eastern Beaches area. 
Officers take an educate-first approach to remind visitors of the by-laws that keep us all safe, but are working in collaboration with 55 Division to ensure escalated issues are prioritized and responded to efficiently. 
Through this arrangement, MLS has also partnered with TPS this year to deploy additional resources for enforcing specific litter, alcohol, and Provincial orders, with extra resources allocated on statutory holidays and weekends patrols. 
TPS 55 Division will maintain a presence in and around the Beach and the surrounding parks, similar to the plan enacted last summer. This includes having auxiliary officers assigned to working the Beach on Saturday and Sunday during day time hours.
To minimize traffic flow and safety-related concerns this summer, Parking Enforcement in conjunction with 55 Division Community Response will strategically deploy maximum resources, to ensure every effort is made to ensure compliance with the Parking Bylaws that'll keep the area moving. This includes assigning Parking Enforcement Officers to enforcement duties to the area specifically, each weekend.
MLS has also partnered with TPS this year to plan for noise enforcement educational events and blitzes. Moreover, MLS looks forward to deploying additional noise enforcement resources this year.
Over the years, we've seen a rising interest in fireworks. This year, I've asked City staff to bring forward a review and report on fireworks. I look forward to the recommendations that will help us keep the Beaches more safe for everyone to enjoy.
With this proactive plan put together, I'll be continuing to work closely with city staff, bylaw and police services to monitor the area as we head into the warmer weather. As we extend our welcoming Beach spirit to the visitors and tourists who will be stopping by to enjoy a slice of our magnificent waterfront, I'll be keeping my sleeves rolled up to ensure this summer is a time of enjoyment for you and your neighbours as well.
Ensuring everyone is able to enjoy the beach safely includes asking important questions to staff and then working the solutions and actions for the best outcome for the community. Feel free to reach out to my office at [email protected] with any thoughts or questions on the season ahead.
Take care,

Brad Bradford
Toronto City Councillor
Beaches-East York | Ward 19
@BradMBradford
@BradBradford
@bradfordgrams