Join us for a virtual International Mother Language Day celebration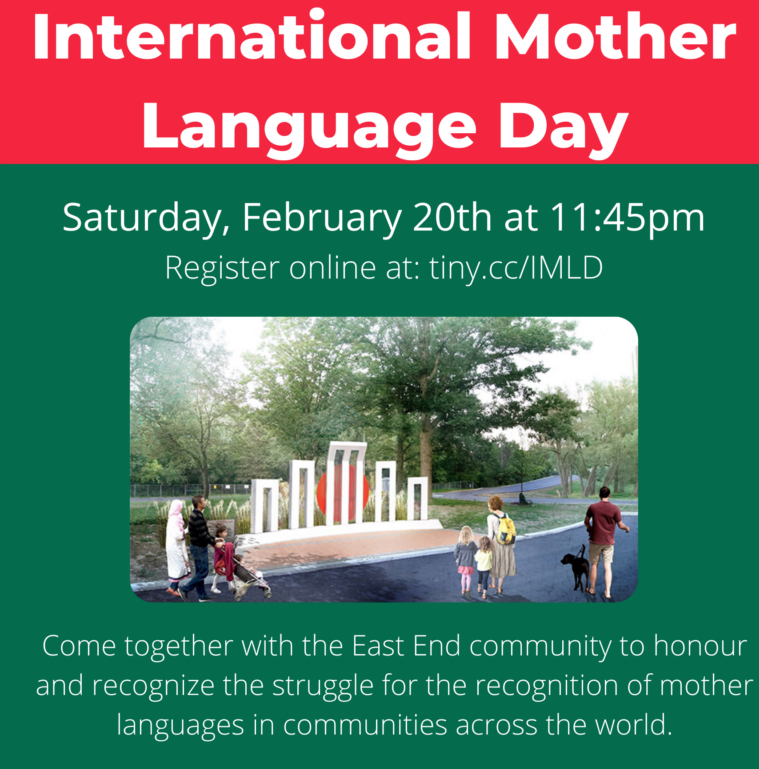 International Mother Language Day (IMLD) is a day of observance and celebration recognised around the world on 21st February every year. For several years, Toronto's East End community has led efforts to mark this UNESCO day of observance. Each year, at midnight on February 21st, community members gather in the Danforth Village area to remember the sacrifices made for the recognition of mother languages in communities around the world, and to celebrate the importance of mother language to c communities' identity and history.
An organizing committee of community leaders have worked tirelessly over several years to raise funds and partner with the City of Toronto to build a permanent IMLD monument in Dentonia Park. The monument is nearing completion but because of the ongoing pandemic, community cannot gather in person as we usually would. My office has organized a virtual celebration with elected officials from Beaches-East York and Scarborough-Southwest to encourage the community to mark this important occasion and offer an alternative to encourage residents to observe from home in 2021.
The virtual event will be hosted on Zoom, starting at 11:45pm on Saturday February 20th. Please register here.
What is the significance of IMLD?
IMLD marks the anniversary date of five students being killed and hundreds others injured in protest at the University of Dhaka in Bangladesh (then East Pakistan) on February 21, 1952. The students were killed during a protest to preserve the Bangla language as an official language in East Pakistan (now Bangladesh). At the time, the government was
trying to impose Urdu as the sole national language but this was the primary language of West Pakistan (now Pakistan).
Today, IMLD has come to symbolize a struggle for identity, values and culture for communities around the world, with special significance for Bangla people internationally.
The designer of the Mother Language Monument in Dhaka, Bangladesh, was a Bangladeshi-Canadian artist Mr. Hamidur Rahman, who lived in Montreal for many years and died there in 1988. Two other Bangladeshi-Canadians Mr. Rafiqul Islam and Abdus Salam proposed to UNESCO to make 21st February as the International Mother Language Day, which was eventually approved by the UN.
What is the history of the IMLD monument in Dentonia Park?
Bangladeshi community in Toronto has been organizing for several years to deliver an monument recognizing International Mother Languages . An organizing committee was formed in 2014 to help raise the funds and partner with the City of Toronto on a permanent monument.  
A number of locations had been proposed for a monument. In 2020, the organizing committee raised the funds needed to construct the monument and met the City's requirements for a partnership agreement. Construction on the permanent monument started with a physically distanced ground-breaking ceremony with elected representatives on November 7th.
As of February 2021, the monument is nearing completion. Construction fencing is being kept place and secured to discourage community members from visiting the monument while stay at home orders are still in effect under Ontario's ongoing COVID-19 pandemic response.