A record day for road safety at Community Council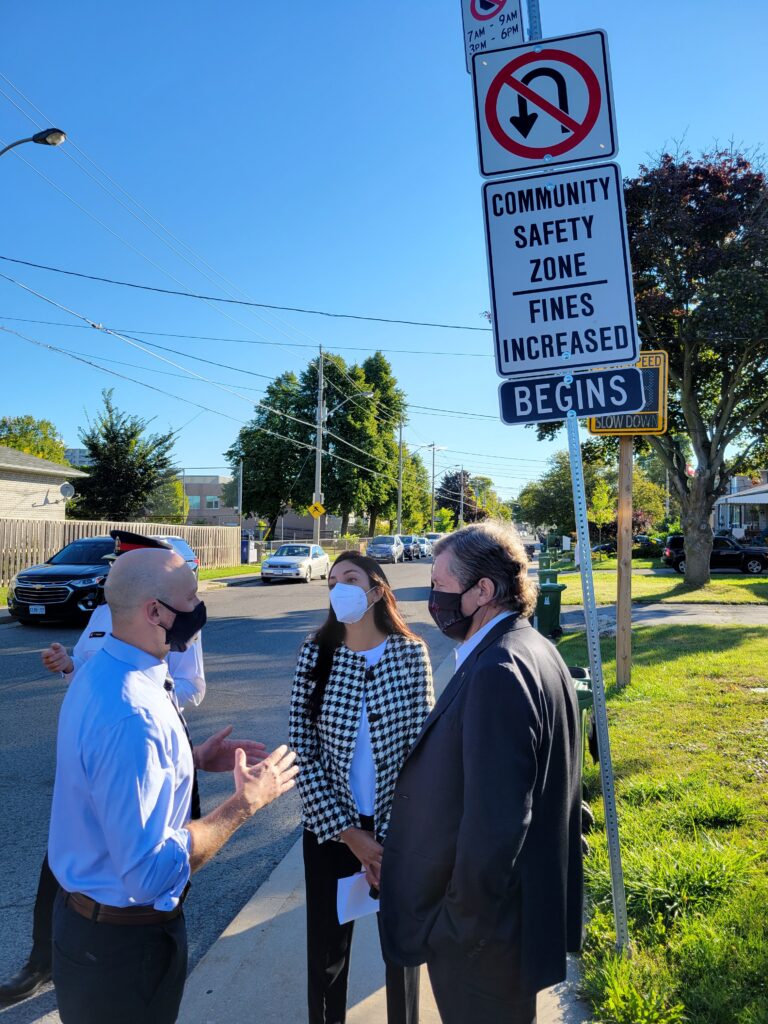 Today's meeting of Toronto-East York Community Council may well have been a record-breaker for a single City ward. Thanks to the hard work and dedication of thousands of community members who've been reaching out to my office, community council passed *25* new road safety measures on local streets in Beaches-East York.
The process for requesting the City to install new road safety measures like speed humps, or having stop signs installed can be lengthy and complicated. What I hear most from community members is that road safety is their top priority, so I've made it mine. After this meeting, we've almost reached 100 new road safety measures passed in Beaches-East York in this term of Council.
None of this happens without the hard work – and direct input – of residents. You can see streets with either in-progress or a completed process to review new road safety options on my website here. If you don't see your street on this list but you'e interested in having new road safety measures reviewed by the City, please reach out to me by email at [email protected].
A special thanks also to all of the City of Toronto staff who work hard to do all of the technical analysis to make these measures possible. Without their dedication – especially through the pandemic – none of this would be possible.
Ward 19 (Beaches-East York) – Road safety measures passed at September 9, 2021 meeting of Toronto-East York Community Council
| | | |
| --- | --- | --- |
| TE27.65 | | Road safety improvements needed on Queen Street East around Neville Park Streetcar Loop |
| TE27.66 | | All-Way Stop at the Intersection of Williamson Road and Hambly Avenue  |
| TE27.67 | | Speed Hump Installation on Bastedo Avenue from Danforth Avenue to Hanson Street  |
| TE27.68 | | Speed Hump Installation on Binswood Avenue from O'Connor Drive to Cosburn Avenue  |
| TE27.69 | | Speed Hump Installation on Cambrai Avenue from Westlake Avenue to Chisholm Avenue  |
| TE27.70 | | Speed Hump Installation on Cassels Avenue from Devon Road to Golfview Avenue  |
| TE27.71 | | Speed Hump Installation on Chisholm Avenue from Lumsden Avenue to Hamstead Avenue  |
| TE27.72 | | Speed Hump Installation on Fairmount Crescent from Bowmore Road to Bellhaven Road  |
| TE27.73 | | Speed Hump Installation on Firstbrooke Road from Burgess Avenue to Corley Avenue  |
| TE27.74 | | Speed Hump Installation on Glenmount Park Road from Gerrard Street East to Burgess Avenue  |
| TE27.75 | | Speed Hump Installation on Glencrest Boulevard from Squires Avenue to Victoria Park Avenue  |
| TE27.76 | | Speed Hump Installation on Harris Avenue from Oak Park Avenue to Chisholm Avenue  |
| TE27.77 | | Speed Hump Installation on Lee Avenue from Kingston Road to Glen Ames  |
| TE27.78 | | Speed Hump Installation on Merrill Avenue West from Roseheath Avenue to West Lynn Avenue  |
| TE27.79 | | Speed Hump Installation on Norlong Boulevard from O'Connor Drive to Cosburn Avenue  |
| TE27.80 | | Speed Hump Installation on Oak Park Avenue from Cosburn Avenue to Lumsden Avenue  |
| TE27.81 | | Speed Hump Installation on Rainsford Road from Kingston Road to Queen Street East  |
| TE27.82 | | Speed Hump Installation on Roseheath Avenue from Danforth Avenue to Hanson Street  |
| TE27.83 | | Speed Hump Installation on Scarboro Beach Boulevard from Queen Street East to Hubbard Boulevard  |
| TE27.84 | | Speed Hump Installation on Scarborough Road from Queen Street East to Pine Avenue  |
| TE27.91 | | Speed Hump Installation on Bowmore Road from Gerrard Street East to Wrenson Road  |
| TE27.92 | | Speed Hump Installation on Drayton Avenue from Danforth Avenue to Terminus  |
| TE27.93 | | Speed Hump Installation on Kingsmount Park Road from Gerrard Street East to Wildwood Crescent  |
| TE27.94 | | Speed Hump Installation on Nursewood Road from Queen Street East to South End  |
| TE27.95 | | Speed Hump Installation on West Lynn Avenue from Danforth Avenue to the end of West Lynn Avenue  |