Going all-in on the small business recovery with a new small business tax class and making CaféTO permanent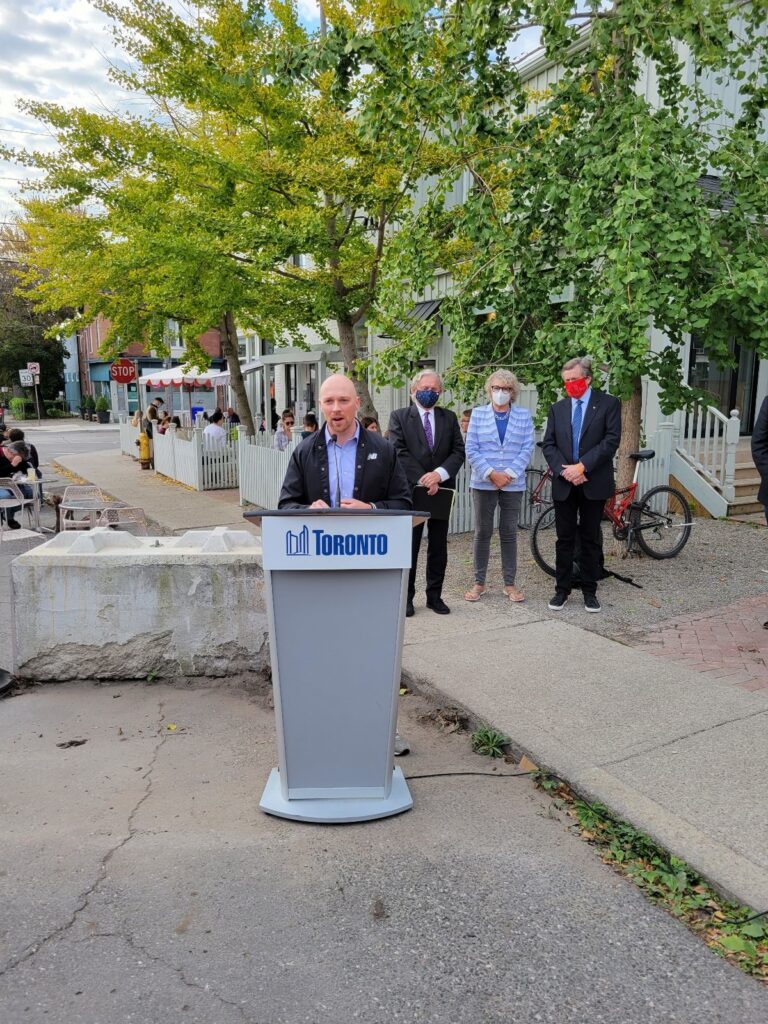 This morning I'm joining Mayor Tory, Councillor Fletcher and Deputy Mayor Thompson to announce two actions that put City Hall all-in on the small business recovery.

If approved, a new small business property tax class will come into effect next year and lower the property tax burden by 15% for an estimated 25,000 small businesses across Toronto. City staff have also put forward a plan to make the extremely popular CaféTO program permanent. These two measures will help strengthen our main street recovery and bring back the energy and activity we need as our local economies recover from the pandemic.

Throughout the pandemic we've often talked about a new normal. The City actions we're learning about today are exactly the kind of new normal we need to be creating. While the pandemic is the catalyst for these changes, they also help address long-standing, systemic needs for our main streets.

By creating a new assessment class for small businesses, we're leveling the playing field for commercial property taxes. Our small main street businesses will be taxed in a way that reflects the real differences in their situations relative to larger commercial businesses. Providing this support now and into the future will make it easier for main street businesses to not just survive but to thrive.

Making CaféTO permanent is about rethinking how we share our public spaces to make them safer, more enjoyable and more accessible for everyone. The pandemic has challenged us to think differently about how we make room for gathering and doing business outdoors, while also accommodating cars, bikes and transit.

Both of these initiatives respond to needs, challenges and opportunities that existed before the pandemic. Today's announcements show the City's ability to move at light-speed during a crisis, and a commitment to turn those moments into opportunities for long-lasting, positive change.

These proposals are the result of months and years of hard work by too many people and organizations to name. My gratitude also goes to the thousands of small businesses and residents who've engaged with me in the last 18 months as the small business lead on the Mayor's Economic Support and Recovery Taskforce. Thank you to John Kiru representing the Toronto Association of Business Improvement Areas and all of the BIA representatives across the city. You've been tireless advocates to keep our main streets strong through the pandemic, long before and long after.

Thank you to Mayor Tory, Deputy Mayor Thompson, Councillor Fletcher and the many members of Council who've shown such leadership on supporting local.