2021 Toronto Budget – Have Your Say!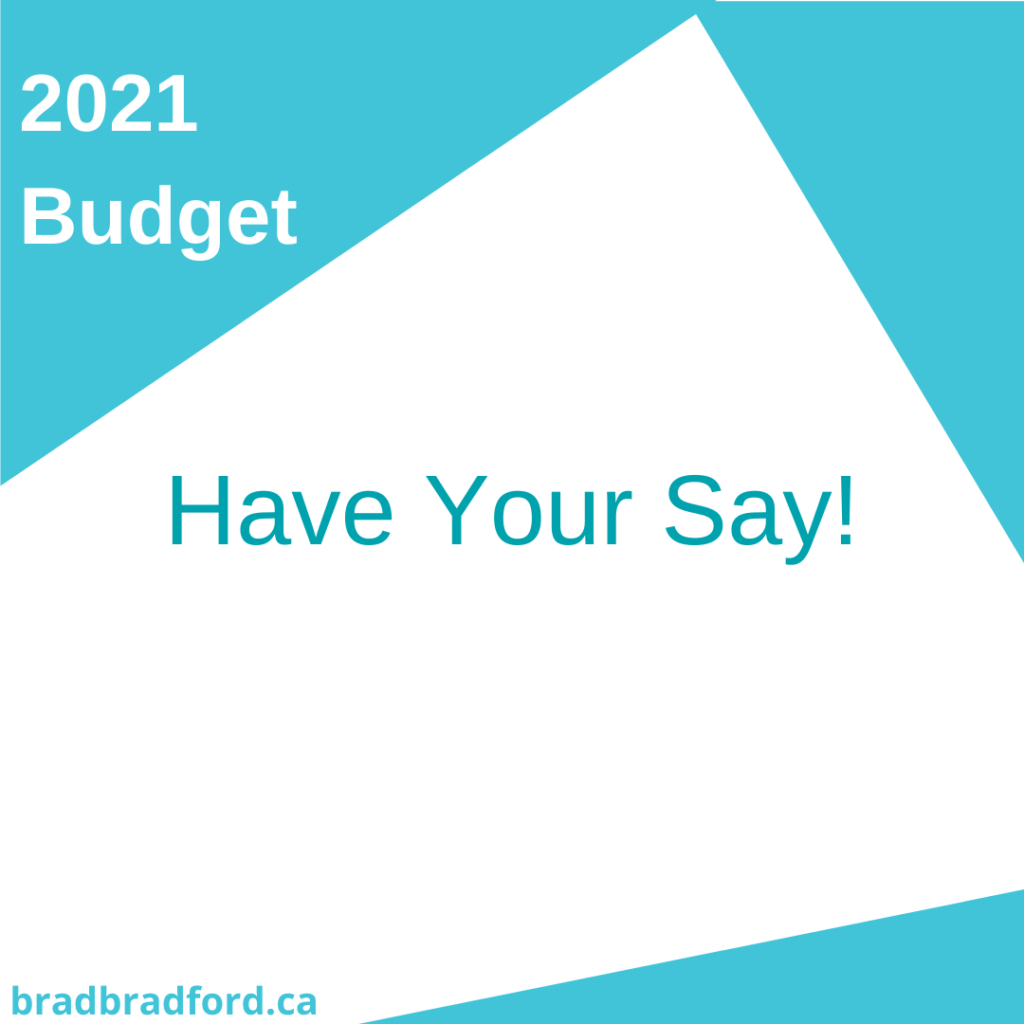 Join one of two public consultations, January 25th and 26th, to share your feedback on the 2021 Budget! Details below.
The 2021 Toronto Budget launched earlier this week and we want to get input from the community. With meetings going virtual this year, sharing your feedback will look a bit differently. We'll be livestreaming the meetings at toronto.ca/council, with the public sessions on January 25th and 26th.
You can register to make a presentation by emailing [email protected] or by calling 416-392-4666. Please make sure you indicate your choice of date! Individuals may only make one presentation. Registered public speakers will be provided with instructions to connect to the web conference meeting. I'll also be hosting an East End consultation – more details to come soon!
You can also make a deputation in writing! Email your comments to [email protected] or through the mail to Toronto City Hall, 100 Queen St. W., 10th floor, West Tower, Toronto, ON M5H 2N2. You can also share these comments with me by CCing [email protected]!
The financial challenges that 2020 brought upon Toronto cannot be understated. At the City, we're continuing to take unprecedented action to stand behind Torontonians. As we launch the 2021 Budget today, we're solidifying those efforts by maintaining the critical services that keep this City moving + setting a strong path for the rebuilding work ahead.
This budget makes crucial, equity-focused investments in three key areas: pandemic response, community safety, and transit. Key highlights:
– COVID INVESTMENTS: We're making major and essential investments to respond to the pandemic through transit, housing & shelters, public health, while dedicating funds to new alternative community safety responses and the community based anti-violence programs vital to building a more just and equitable city.
– SURFACE TRANSIT: Our transit network is the backbone of our City. We're making a full investment in the TTC + setting out the $ to restore bus service to pre-pandemic levels, so riders can make essential commutes as safely as possible. We're also making transit more accessible by expanding the Fair Pass program for those who need it most.
– STREET ACTIVATIONS – ActiveTO, CurbTO, CafeTO: Safe opportunities to get outside and support our Main Streets are crucial to the health of our communities and small businesses. We're setting out $ to bring back these installations as soon as winter ends!
– VACANT HOMES TAX: As we continue to make record progress on building housing & shelters, it's new revenue tools that will help this work continue. We're setting up the Budget to get to work on bringing forward a tax on Vacant Units next year.
– INTERGOVERNMENTAL FUNDING: Toronto is the region's economic engine. We're doing the work at the City to keep budgets flat while driving dollars and cents into pandemic support and recovery. We need to continue advocating for our government partners to make the investments critical for us to keep moving forward on response and rebuilding.