Accelerating bus priority corridors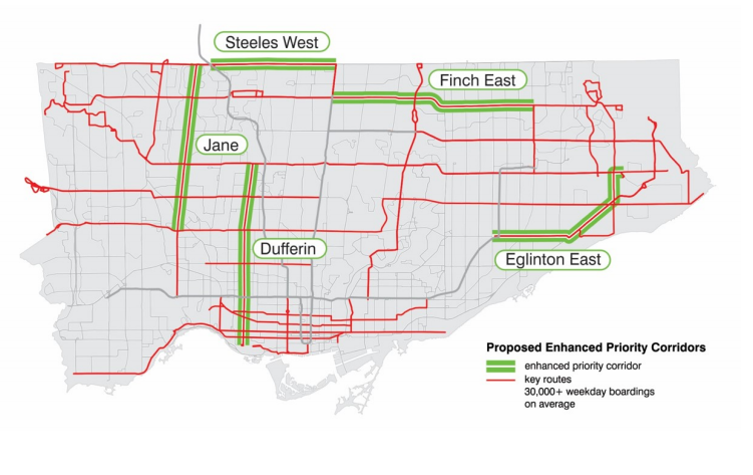 Next week, I am asking the TTC Board to support providing safer, more reliable and improved bus service to communities across Toronto. I have submitted a Motion for our June 17th board meeting asking the TTC's CEO to accelerate implementation of the five bus priority transit corridors identified in our approved 5-year service plan.
While there wasn't a specific timeline in the original plan, I am asking the board to accelerate the plan in time for September to relieve pressure on the transit system during COVID-19 response. The corridors are primarily in suburban, transit-reliant communities in the city:
Jane Street: from Eglinton Avenue to Steeles Avenue
Dufferin Street: from Dufferin Gate to Wilson Avenue
Steeles Avenue West: from Yonge Street to Pioneer Village Subway Station
Finch Avenue East: from Yonge Street to McCowan Road
Eglinton Avenue East/Kingston Road/Morningside Ave – from Kennedy Subway Station to University of Toronto Scarborough
The motion before the board states that fast-tracking bus priority corridors will help to improve reliability, safety and customer confidence in the city's transit service. The priority corridors are in parts of the city that have experienced some of the most acute bus overcrowding during the COVID-19 pandemic.
Implementing these priority corridors could be a more cost-effective approach to physical distancing on the TTC compared to the current, real-time responsive measures to address overcrowding. Priority corridors would also also improve service overall. As priority routes speed up bus service, the number of buses required for standby decreases, thereby reducing operating costs.
The motion proposes that at a minimum the priority corridors could be implemented by painting and signing the curb lane for TTC buses only, optimizing signals for transit priority, placing temporary bollards or cones to identify transit-only lanes, and providing enforcement.
How does this help?
This is about three things: safety, equity, and improving transit service. Bus service is the most adaptable mode of transit for satisfying the evolving public health guidelines on physical distancing. When you look at the map of COVID-related transportation interventions in the city, there's a concentration in the former city of Toronto and downtown for initiatives like ActiveTO. Those are important efforts, but we also need to support communities in our suburbs who rely on transit to get around. Many of these communities are home to our front line workers in essential sectors like healthcare, food distribution and manufacturing. These priority corridors are already one of five pillars in our board-approved 5-Year Service Plan. If we speed it up, we can meet an immediate need and start bringing long-term transit improvement to the communities that need it most.
As we reopen through the COVID-19 pandemic, the bus network will play an important role in connecting communities historically underserved by transit. Bus priority lanes are part of the solution in removing barriers to employment access and restarting the economy. Buses are the workhorse of our transit system. Before the pandemic tens of thousands of my residents, and hundreds of thousands of Torontonians relied on these bus routes to get around every day. As we start going back to work and school, we should be doing everything we can to make life a little easier for our residents who have been so patient and cooperative through this pandemic.
Pre-COVID, buses carried the highest number of passengers of all TTC services with an average of 260 million trips per year. With the TTC facing an estimated $92 million budget shortfall each month, the transit service is taking critical steps to save costs and improve transit service.
You can find out more about the motion here:
The TTC's 5-Year Service Plan has five pillars. Pillar 4 is to "Prioritize Surface Transit".
Map of Enhanced Priority Corridors in 5-Year Service Plan: