Panel: Career and Scholarship Opportunities in the Construction Sector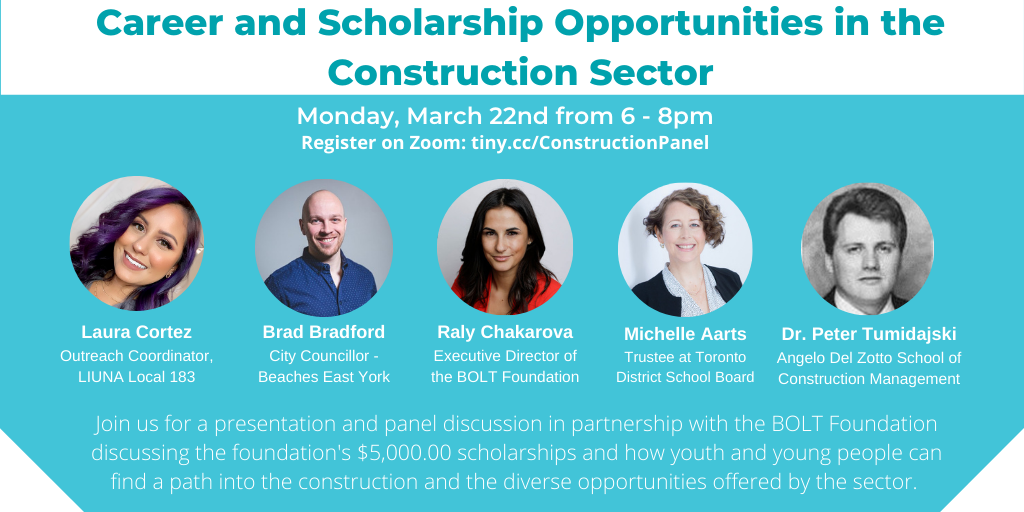 Register for the panel on March 22nd here!
The construction industry offers incredible opportunities for skill and career development. The BOLT Foundation is supporting under-represented youth and young adults access the incredible skill and career development opportunities in the construction sector with scholarships of up to $5,000. On Monday March 22nd , Toronto City Councillor Brad Bradford and TDSB Trustee Michelle Aarts are hosting a presentation and panel discussion in partnership with the BOLT Foundation discussing how youth and young people can find a path into the construction industry and the diverse opportunities offered by the sector.
The session will be on Zoom and livestreamed from 6-8pm. The discussion would be relevant for youth from Grade 7 through to young adults in post-secondary education, and any youth unsure about their career pathway. Parents, guidance counsellors and construction industry professionals interested in mentoring youth are welcomed and encouraged to attend!
Our panelists will include:
Brad Bradford, Toronto City Councillor (Beaches-East York)
Michelle Aarts, Toronto District School Board Trustee (Beaches-East York)
Raly Chakarova, Executive Director, Bolt Foundation
Dr. Peter Tumidajski, Chair, Angelo DelZotto School of Construction Management, George Brown College
Laura Cortexz, Outreach Coordinator, LiUNA Local 183 Training Centre
To find out more about the BOLT Foundation visit the foundation's website and scholarship page.