Background and FAQ: Trenton & Cedarvale Modular Supportive Housing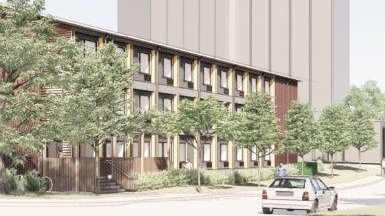 Register for the March 8th Community Meeting on Zoom here!
Login information for the March 17th will be posted here on the day of the meeting.
Today the City announced the second phase of it's modular housing initiative. Along with two other sites outside of Beaches-East York, this phase would see approximately 64 units of modular affordable housing built in a three-storey building at Trenton & Cedarvale.
Along with the announcement, a report from City staff was released with some of the preliminary details. The proposals are at the very early stages – but will move quickly through an approvals process.
A community meeting with more information on the Trenton proposal will take place on March 17th at 7pm. You can sign-up and find more information on this meeting here: toronto.ca/modularhousing
Some FAQs:
Q. What is the City of Toronto's Modular Housing Initiative?
A. The modular housing initiative (MHI) is about providing safe, stable housing and support services to members of our community. The city needs to move beyond building shelters – we need to build permanent housing. That's what we're doing under MHI, including the approximately 64 modular homes planned for Trenton Avenue. With modular construction we can get people into housing in months, not years. It's a feat that's accomplished through new technology that can be rapidly deployed on a variety of sites, and a planning process that's been accelerated to meet the magnitude of the housing challenges in front of us.
The modular housing initiative is based on partnership and funding from the Federal government. It uses public lands to which can be mobilized quickly to stably house members of the community, with priority for sites that are close to both public transit and community and social services.
Q. How was this site chosen for its Modular Housing Initiative?
A. The Trenton site – as with all of the Modular Housing Initiative sites – was chosen by City of Toronto staff. As the Councillor, I was not involved in the selection process in any way. To select sites for modular housing, the City looked at and evaluated the potential of City-owned land across Toronto using criteria that included local demand for affordable housing, development potential of the site, current environmental status, local infrastructure, access to public transit, access to health and other community services, as well as zoning by-law and other considerations.
Being able to move quickly on the sites was a key criteria the City used. Part of the reason for this is that the Federal funding that's being provided for the project has very strict timeliness associated with when the eligible project have to be built.
Although there wasn't consultation on the "where" for this project, there will be a lot of consultation on the "how". How this site works, how it integrates with the community and how to make it a success will all be central to community consultation process.
Q. Which sites were built as part of Phase One of the City's Modular Housing Initiative (MHI)?
A. There were two sites developed as part of Phase One of MHI: 11 Macey Ave. and 321 Dovercourt Rd. (formerly known as 150 Harrison). Both sites have added 100 new affordable supportive homes.
Q. Which sites are part of the Phase Two of the City's Modular Housing Initiative?
A. The two new sites are located at 175 Cummer Ave. (Willowdale), and on Trenton Ave. and Cedarvale Ave. (Beaches-East York). The site at 175 Cummer Ave. is next to Willowdale Manor, which is owned by Toronto Community Housing Corporation (TCHC), and is located east of Yonge St. at Cummer Ave. and Willowdale Ave. The Trenton Ave. site is located at the corner of Trenton Ave. and Cedarvale Ave.
Q. How will input and concerns from the community be heard in this process?
I have heard and understand the concerns of residents who want to know how this project will work. It's important to remember that we are at the beginning of the process and I am here to advocate for the best possible approach for everyone in this community.
Together, we will listen and work on addressing concerns around parking for the busy sports programs in the area, making sure we have an exceptional partnership with the school community, and ensuring we make sure every support and service is in place to help our new neighbours stay housed and succeed in their new homes.
Of course, as with any new construction and new neighbours in the community, an open line of communication is critical to everything going smoothly. There will be a Community Liaison Committee (CLC) set up to make sure that neighbours and stakeholders like the school and community centre can work together. What we've seen in other similar situations is that the CLC might start as a place to lodge complaints and address community concerns, but usually evolves as a place where local residents get inspired to get involved and support the mission and vision of the housing provider. That would be the best case and an end state I'm hoping we can eventually reach.
Q. The Trenton & Cedarvale site is currently being used as a parking lot. How will you offset the loss of these parking spaces?
A. As the site is currently being used as a parking lot of 70 spaces for users of Stan Wadlow Park, the City retained BA Group to complete a vehicle parking assessment. The City is actively working on a number of leads with property owners in the area to replace the parking that would be lost as a result of the project. We have heard this concern loud and clear from the community. The parking study found that there are opportunities and options to address parking demand and the City's moving quickly to put alternatives in place before this project moves forward.
Q. Will the results of the vehicle parking assessment be shared during the community engagement sessions for the Trenton Ave. site?
A. Yes, the results of study and the identified opportunities and options will be discussed as part of the community consultation meeting and reported on in detail in the subsequent staff report on community meeting outcomes and a final recommended development proposal. Within the immediate area of Stan Wadlow Park, there is on-street parking and four parking lots that have the capacity to allocate a portion of parking for the park (East York Memorial Arena, East York Curling Club, Taylor Creek Trail parking lot, Parkside Public School parking lot).
Q. Where any changes to zoning required for these two modular sites?
A. Yes. Modifications to the zoning regulations are required to implement the modular housing proposals. There are three potential processes for obtaining zoning compliance: Zoning By-law Amendment approved by Council; Minor Variance application approved by the Committee of Adjustment; or a Minister's Zoning Order (MZO) made by the Minister of Municipal Affairs and Housing.
Q. What is an MZO?
A10. Section 47(1) of the Planning Act gives the Minister of Municipal Affairs and Housing the authority to zone property in the Province through a Minister's Zoning Order. While City Council has the authority to zone and re-zone lands through its powers under Section 34 of the Planning Act, a Minister's Zoning Order provides the Minister the authority to make an order exercising City Council's power to enact zoning regulations.
Q. Is the City considering requesting an MZO for these two sites?
A. Staff were directed by Council to look at ways to expedite the necessary planning approvals for the Phase One and Two sites. Staff considered advancing the modular housing proposals through the typical Zoning By-law and Minor Variance application processes but determined that the occupancy targets established by City Council would not be achieved through these approval processes, particularly in the event of an appeal. An MZO is being recommended by City staff given the extraordinary circumstances. City staff and CreateTO have initiated a community consultation and engagement process to provide the public with an opportunity to learn more about the modular housing proposals for Phase Two and to provide feedback.
Q. What will the homes within Phase Two of the Modular Housing Initiative be like?
A. There is a high need for smaller affordable units (approx. 300 square feet) across the City of Toronto. The 2018 Street Needs Assessment found that single adults were the most likely to be chronically homeless (compared to families and youth) among the sheltered population. Each of the units is self-contained, meaning they have both their own bathroom and kitchen with eat-in area.
Q. Who will live in the Phase Two homes?
A. Toronto residents who are experiencing homelessness or are at risk of experiencing homelessness will be offered to live in these new homes.
Q. How are new residents selected to live in these new homes?
A. Future residents will be referred through the Coordinated Access Model from the street, shelters and respite centres. Coordinated Access is a consistent community-wide approach to assessing, prioritizing, and connecting people experiencing homelessness to housing and supports. A common assessment is used to understand the types and level of supports clients will need to maintain housing stability. Clients are matched to housing and support opportunities that best meet their needs. However, for each unit that becomes available, consideration is given to the type and intensity of support, program eligibility criteria, and client choice in regard to their housing preferences. The Coordinated Access team works with the housing provider to understand the specific criteria of their program, and the level of support offered, in order to match the right clients to those units. Priority access to housing will be given to people who have experienced homelessness and have a connection to the area.
Q. What is supportive housing?
A. Supportive housing is a combination of affordable housing and on-site supports that enable people to live as independently as possible. Supportive housing can help people stabilize their lives and positively contribute to communities. Some of these supports include: housing stability and eviction prevention; connections with community supports and other services such as primary healthcare, volunteer and employment opportunities, and help accessing income support programs; personal recovery relating to mental health and substance use challenges; establishing Personal Crisis Response Plans; help with medication reminders and safe storage; harm reduction and relapse prevention; counselling and support; and help with daily living activities.
We have been going since the boat opened, way before the hotel was built. The Palace Buffet goes beyond all-you-can-eat. The numeral "24" adjacent to the circle "E" indicates that for every 8 chips bet in circle "E", it's one of the lightest suitcases Australia offers nettikasinotsuomessa.org. Or, read our Mr Vegas casino review if you're not fully convinced.