Update on Metrolinx work in Small's Creek and Lake Shore East GO RER expansion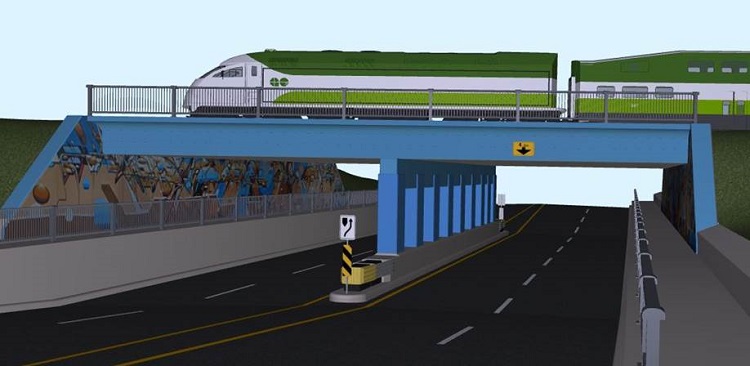 Many of you have reached out to me in the last week or two with your concerns about the Metrolinx work planned in and around the Small's Creek Ravine, as well as general concerns about the Metrolinx corridor expansion work to accommodate a 4th track.
I'd like to begin by thanking you all for your advocacy – I've received a lot on this from you.
I want to reassure each and every one of you that the questions you have sent me are the same questions I have already asked Metrolinx myself. I share your concerns about the need for the sensitive restoration of Small's Creek and want to see the highest standards of environmental stewardship used for any work Metrolinx does in our natural environment.
My office has already mentioned this to some of you, but I want to clarify and repeat it again: since Metrolinx is a provincial agency they are not required to inform my office of anything they're doing. Most of the concerns that have been raised are a result of a lack of communication – and the communication that is happening is inadequate, often poorly formulated, and lacking the detail that's needed at the local-level.
All this does not mean that we should not do anything. We must take action but we have to do it in a way that helps us achieve our goal of protecting the environment. The purpose of this post is to update you on what's happening and to outline the best ways we can work together.
Please have patience. As I hope this update will reassure you I am following this issue very closely and am working hard to what I can to resolve this issue.
KEY STATUS UPDATES
1. Lack of responses from Metrolinx
When it comes to informing me, my office, our community and City of Toronto departments such as Parks, Forestry & Recreation, Metrolinx has shared the absolute bare minimum for what they need to get their work done. This by no means excuses the lack of information we're being given, but I want to be clear that I share the same concerns you do and am working to get the same answers. Information is often unfortunately communicated to me at the 11th hour.
I was scheduled to have a meeting with Metrolinx last week (December 9th) to discuss both the general expansion work and specifically Small's Creek because when I don't receive answers via emails or phone calls, I thought we could certainly receive information via a virtual meeting. Metrolinx, however, rescheduled just hours before the meeting asking to speak next week to have more time to answer my flurry of recent questions about Small's Creek.
We are working our hardest to get answers but that we are not immune to the same lack of response as many of you receive.
2. Community call proposed by Metrolinx
When Metrolinx informed me that our meeting last week needed to be rescheduled, I was told that they are also organizing a meeting with those of you who have reached out to them directly so they can respond to your concerns directly. I recommended they organize this call to include the CAC, everyone they heard from directly, and that I would be happy to share the details of those from whom my office has heard from (with your permission).
I would like everyone to be receiving the same information, so that there is no broken telephone and so you can get better answers from them directly. I have asked them to give me as much notice as possible for this call and will update everyone who has reached out to my office. I can't make any promises about the amount of notice they'll provide.
3. Site visit planning
Some residents have requested a walk-through of the Merrill Bridge Dog Park and Small's Creek with City PFR staff and Metrolinx. I have asked Metrolinx for an update Thursday on this with concrete dates as options by end of year and have been asking repeatedly for this to be set up. Again, I cannot make Metrolinx attend the site.
4. Updates on specifics about tree removal.
Receiving the 24 submissions that came with the TRCA review dated June 2020 where it states that 267 or so trees will be taken down. At the same time as many of you, I asked for this information on Metrolinx and TRCA. I received the same response as you which is that they need to check on a few things and they need to organize a couple of things internally before they send it. Still waiting.
I received the same message when I have been asking Metrolinx to confirm the number of trees that will be impacted and any wildlife habitat concerns. This is what I was hoping to hear from them yesterday.
5. Questions about the real necessity of a 4th track.
This has been in the works for several years (under the previous provincial government), meaning the general idea of a 4th track was certainly not announced in the last couple of weeks or months and even this year. The goal is to decrease congestion on the trains and achieve improved service (regular train service in 15 min intervals, in both directions on the lines). Though COVID-19 is upon us now, Metrolinx is operating on the assumption ridership will increase again. The Environmental Assessment for this work was done over 3 years ago, meaning that the project has cleared the hurdles to allow it to go ahead. Those hurdles – including Environmental Assessments are legislation at the Provincial level of government. It is also legislation that the current Ford government has been amending. The City – including me as a member of Council – advocate and give advice to the Province regularly on changes to legislation and let me be clear. I do not support weakening environmental regulation. I have been vocal about this, though it's not something I can vote on as I am not a representative at Queens Park.
6. Concerns with hours of construction for this work being between 1am-5pm for the next 8-10 months.
The work is to be done during those hours because trains do not run then so these are the only viable working hours where they will not be interrupted on the tracks by incoming trains. Working while trains run is not only unsafe but would extend the timeline of the whole project, likely by multiple years. I am, of course, advocating for all of the available noise mitigation measures to be used – the quietest possible equipment and the least intrusive lights etc.
7. Details about the location of the noise barrier walls.
There is information of the approx. 12km of noise wall slated for the Lakeshore East line on Mlx's website. There is a lot of mitigation that is meant to go in under the Environmental Assessment that was done under the previous government. You can download below drawings from 2017 which show the mitigation measure required. Metrolinx still needs to give us a clear answer on exactly what will be put in, and how much of what is "planned" for mitigation is "funded".
Download Metrolinx drawings showing proposed noise mitigation barriers here.
This is something I was also hoping to hear about last week, but given that it will be approx. 3 years before it will be put up, I am not sure that they have decided upon this themselves but I will ask nonetheless.
ACTIONS AND APPROACHES THE COMMUNITY CAN TAKE
What I see and appreciate from all of your messages is that you want to take action and make sure this project does not harm our natural environment.
1. My office and the City have controls in place
I wanted to let you know that real estate services, a department with the City just last week reached out asking for my consent to certain permissions for Metrolinx work. Yesterday, we received the below email, asking for permission to do work on City property. I asked them to hold off until we speak with Metrolinx and get the answers we are looking for around Small's Creek. To be clear, I am telling City departments that we do not consent to granting Metrolinx the permits to do this work.
So right now, we have not allowed their permits to start this exact work at this exact location. This is an example of something we at the City can have a say in, which is that when there are trees located on City land or private trees we can fight for tree protection plans, but of course any trees on MLX property we cannot protect.
Dear Councillor,
Metrolinx has proposed to carry out due diligence works at this locations for their GO Expansion project. The work consists of geotech borehole drilling (3 days) and monitoring of the same thereof (12 weeks).
PRF have consented to permitting Metrolinx to undertake the work at cost, subject to full PPE; safety orientations and coordination with Area Supervisor.
Metrolinx will provide signage at access point of Green Parking. Such signage will be posted a minimum 3 days before commencement of work. Furthermore, Metrolinx will provide confirmation that there will not be refueling equipment on site, a protection strategy for not having any hydrocarbon spills on site.
Please let me know should you have any comments/questions. Looking forward to obtaining your consent on the proposed work by Metrolinx for GO Expansion.
2. We have to walk a fine balance to keep Metrolinx cooperative but also accountable
As a local representative, I approach every issue as any concerned resident wanting to protect the community's best interest would. So please know that I have high demands of Metrolinx. Since they are by no means obliged to work with us, if they do act cooperatively it's based on the working relationship that I'm making every effort to maintain with them, right from their CEO, Phil Verster, who I spoke with a few weeks back, to the many community liaison staff they have.
I made this point already, but I am copying it here again because it is important: since Metrolinx is a provincial agency they are not required to inform my office of anything they're doing. The Province can – if they choose – decide to entirely ignore the City's requests and requirements. Municipalities are "creatures of the Provinces". This is in the Canadian Constitution and is something we learned the hard way when Council was cut in half in the middle of an election 2018. We re-learned it when the Province took away the City's decision-making ability to expand transit (Bill 107).
Of course, as a matter of good practice, Metrilinx does apply for City permits and permission to access our land. I think we live in a strong and healthy democracy. I believe Metrolinx will abide by the environmental legislation that is in place. From my experience so far Metrolinx lacks local sensibilities – clearly they are inexperienced and ineffective at communicating with a community as organized and engaged as ours. What I would like to avoid is the Province simply changing the goalposts in the face of local opposition, as they are able to do.
3. Putting Metrolinx commitments on the public record
One concern I've heard on several occasions is that the City should be taking action to keep Metrolinx accountable for its commitments. That includes accountability for how many trees for will be impacted, accountability for when work will be done and how, and any other items that get 'negotiated' with the community. I agree with you and am committed to working with you on this.
In order to do this – I need your cooperation and patience. We first need Metrolinx to clarify its commitments and then I will ask City Council to direct the City's staff to protect the City's interest and ensure that Metrolinx abides by the commitments they do make – whether that takes legal resources, technical resources to evaluate the geological impacts or other matters that come up in the discussions.
Some of you have seen motions from Councillor Fletcher to City Council with respect to the Ontario Line and the GO Corridor work. Councillor Fletcher and I have been in close contact on these items. The Ontario Line is at a much earlier stage than the GO expansion work. The Environmental Assessment for the Ontario Line has not been completed yet. That means there are more opportunities to influence and input into the process. GO expansion has passed the EA stage many years ago, so the project is going ahead and we need to use different tools to shape the outcome.
Those things will come. Putting pressure on my office won't get the answers any faster. Directing your concerns at Metrolinx first with me backing them up when you don't receive answers is in my opinion and my request to you, as the most helpful advocacy strategy. So I am asking that we work together and we work patiently.
IN CLOSING
I hope this addresses the overarching concerns I listened to carefully from many community members. As I have stated before and am saying again now, if and when I receive further information, I will share it with you. I hope to receive some answers when I virtually meet with Metrolinx this week.
I hope my recommended strategy for your advocacy efforts is clear, and I am here to help in the areas in which my office can be most impactful.
Respectfully.
Brad
P.s. please follow me on social media and sign up for my newsletter for updates on this matter. You can also get updates directly from Metrolinx on this issue by signing up for their newsletter here:
http://www.metrolinx.com/en/greaterregion/projects/lakeshore-east-rail-corridor.aspx