Announcing Modular Housing at Trenton & Cedarvale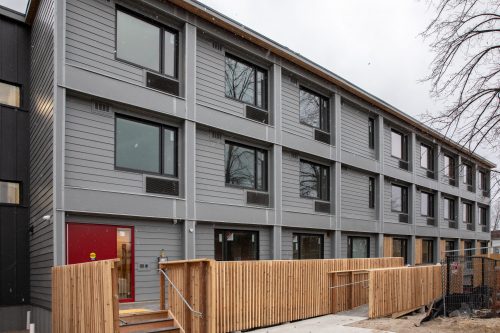 Looking for background and FAQs on this proposal? Click here.
STATEMENT:
Today's announcement of vital new supportive housing opportunities coming to the East End is important, positive and timely.
We have a housing crisis in our city. A crisis exacerbated by a pandemic that has disproportionately impacted our residents experiencing homelessness who are five times more likely to die from COVID-19 than any other Torontonian.
The city needs to move beyond building shelters – we need to build permanent housing. That's what we're doing here, including the approximately 64 modular homes planned for Trenton Avenue. With modular construction we can get people into housing in months, not years.  
It's a feat that's accomplished through new technology that can be rapidly deployed on a variety of sites, and a planning process that's been accelerated to meet the magnitude of the housing challenges in front of us.
I have heard and understand the concerns of residents who want to know how this project will work. It's important to remember that we are at the beginning of the process and I am here to advocate for the best possible approach for everyone in this community.
Together, we will listen and work on addressing concerns around parking for the busy sports programs in the area, making sure we have an exceptional partnership with the school community, and ensuring we make sure every support and service is in place to help our new neighbours stay housed and succeed in their new homes.
We all come to conversations around housing and homelessness – myself included – with preconceived notions and biases based on our own experience. My relatively short time as a City Council has shown me that there's no single picture of homelessness and we need all kinds of housing, in all kinds of places to address the issue.
Most housing need is invisible and the continuum of experiences is enormous. Perhaps the most common image in our minds is of individuals staying outdoors. This initiative will help people with those experiences, and it will also help people with a range of other experiences like community members forced to sleep in their car after losing a job and not being able to make rent, or fleeing an abusive domestic situation.
The East End is a community of good neighbours and great local leaders. I know we'll work together to not only find ways to co-exist but to help our new neighbours and each other thrive with these new housing resources available.
Thank you to Mayor Tory and my City Council colleagues for their support in making this project a success over the coming months, to the City staff working diligently for this project to serve our community, and to our partners in the Federal Government who are providing crucial funding to make this possible.
Finally, thank you to the community who I know will work tireless to make this project successful. I'm looking forward to rolling up my sleeves with you and sharing that work in the months ahead.