Recording: March 17th Trenton and Cedarvale Modular Housing Community Meeting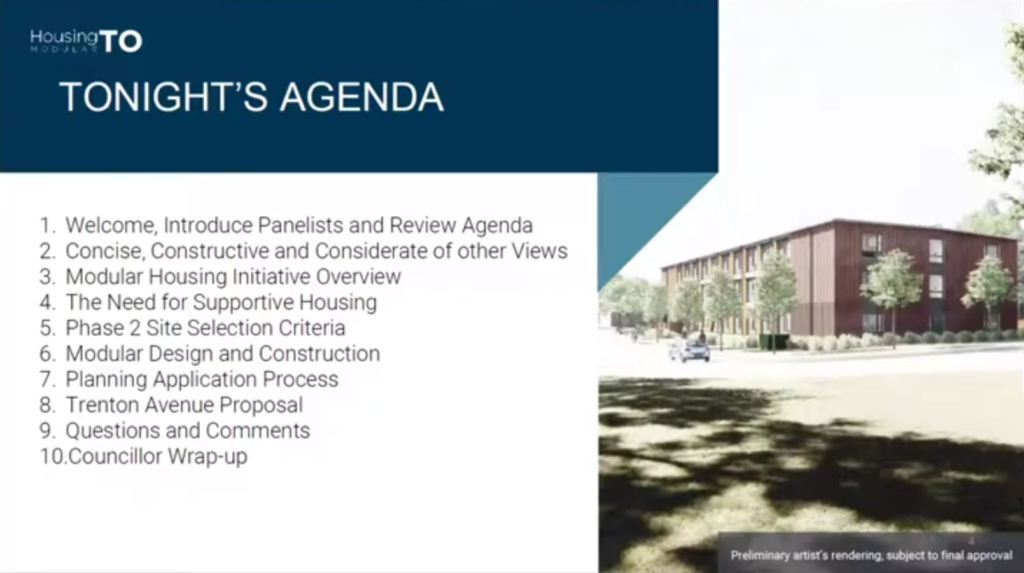 Thank you to everyone who joined for our community meeting on March 17th to discuss the modular affordable housing proposal at Trenton and Cedarvale. This meeting was held on Webex at 7pm.
There is an urgent need to build permanent, affordable housing in Toronto. There is also a need for appropriate community consultation. We're still early on in the process and getting feedback from the community is how we'll ensure that this project is successful for everyone. Your input from the first few weeks of the proposal has been threaded directly into the next steps we're taking, and we'll continue to do that as we push forward.
This meeting addressed important questions like: how this site was chosen, what the selection process for support service providers is like, and how we're approaching the parking situation to ensure everyone can still enjoy all the surrounding services and amenities.
Our East York community is full of compassionate and thoughtful people who won't hesitate to roll up their sleeves and work together to get this right. We're here because we're taking poverty seriously. There has never been a greater need for projects like this to house and support our most vulnerable to get them back on their feet. We're still early on in the process and your input as the local experts is critical to make sure we get this right.
More information on the project as well as frequently asked questions can be found here. More information on the City's modular housing strategy is available here.